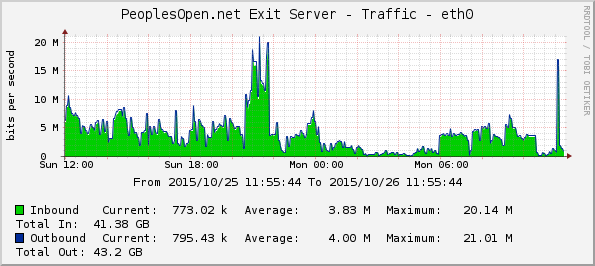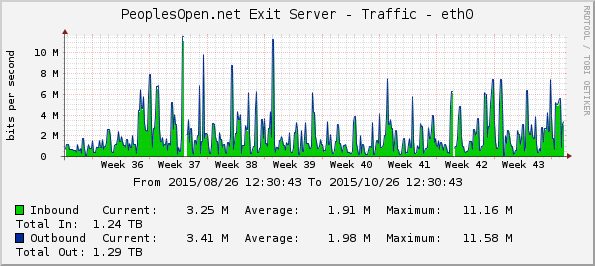 We've been doing alpha testing on our what's looking to be the network v0.2 for the last couple months. A lot of our firmware/etc code has been tightened up and we're starting to get good results. There are obviously a lot of metrics that are worth considering when evaluating the success of a network, but uptime is a good start, and we're finally getting 90%+ uptime on all of our nodes. That might not sound impressive, but these are pieces of hardware that are hosted at various folks houses, so coordinating the reboot of a router that's in someone's living room can be a challenging ordeal. For those that are interested, graphs from our monitoring server are available here:
Smokeping (latency graphs) http://monitor.sudomesh.org/smokeping/smokeping.cgi?target=Mesh
and
Cacti (traffic and some hardware measurements): http://monitor.sudomesh.org/cacti/graph_view.php?action=tree&tree_id=1&leaf_id=45
We've been uploading the latest versions of our firmware as binaries to:
http://builds.sudomesh.org/builds
Home Node firmwares are for TP-Link wdr3500, 3600, and 4300 as well as MyNet N600 and N750 routers. Extender Node firmwares are known to mostly work for Ubiquiti Picostation M2, Bullet M2 and M5, Powerbridge M2 and M5, and Nanostation M2 and M5.
We're in need of a handful of new folks to host home nodes and possibly also extender nodes. To be a good home node host, we ask that you be:
Willing to share some amount of your bandwidth. It doesn't have to be a lot, but 1-2mbps can go a long way for someone who doesn't otherwise have any connectivity.
Reliably in contact so that we can ask you to do simple things like reboot the router (hopefully rarely if at all), and check connectivity
Interested in providing some feedback as to how you think the experience is and how it could be improved
To be an extender node host we ask that you be all those things and also have access to your roof and/or another high point on your house/building/etc and be willing to mount a (pretty small) antenna there and run an ethernet cable from your home node (probably near your router) to that roof location.
If that sounds like you, get in touch: https://sudoroom.org/wiki/Mesh#Join_Us
At the moment, we're providing the hardware, so you'll be hosting $50-$150 worth of equipment which in many cases can significantly improve coverage in your own home!