Last month, we finally received a donation of 85 laptops originally slated for recycling by SF startup Credit Karma after a year of persistent badgering of one of their hardworking and community-conscious employees. While stellar machines (approximately half of them 2012 MacBook Pros), they came bereft of hard drives and power supplies. So, we spun up a campaign on Facebook and locally to raise the ~$5,000 required to equip them all with 128GB SSDs, power supplies, and a random array of replacement components.
Since February, we've distributed over 50 of these laptops to Bay Area youth, activists, and video producers without the means to obtain their own machine – many had never owned a laptop at all, or were media-makers working on 10-year old machines with < 8 GB of RAM.
60 of those 85 laptops have been distributed thus far. A general breakdown: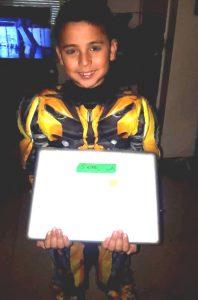 * Roughly two dozen laptops to family member activists of comrades who lost their lives to police murder (such as Josiah, left);
* 3 production-quality PCs and 3 production-quality MacBook Pros to OWH Studios, INC. for their classes teaching video production and editing to disadvantaged youth in Oakland;
* 4 production-quality MacBook Pros to black high school girls learning video production to channel their activism from Noemie Serfaty;
* 4 PCs for livestreaming events and running A/V at the Omni Commons in Oakland, enabling members of Omni's resident film collective Liberated Lens to do mobile video editing, and running the laser cutter in Omni's resident hackerspace Sudo Room;
* 5 PCs to Liberated Lens members who were previously working on hella-outdated machines.
* 7 PCs to members of revolutionary homeless empowerment camps vis-a-vis First They Came for the Homeless and The Village.
* Over 80% of recipients are activists, many on the front lines in the struggle against police brutality. Most (75%) are POC and/or immigrants, half are youth and/or students, half are artists and/or media producers, and a third are educators.
Last week, Sudo Mesh received the best kind of funding: withheld war tax payments from the People's Life Fund! The $2500 we received will be split between Laptops For All, the Hackpack Project, and disaster.radio 😀
Our plan over the coming months is to survey and schedule digital literacy workshops and mentoring sessions with laptop recipient, secure another round of donated laptops from Credit Karma, and devise a sustainable model for continuing the project – laptops (and internets) for all!
Learn more at LaptopsForAll.org – and help out by donating moneys, laptops, parts, or repair assistance!