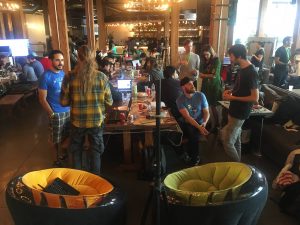 This weekend, members of the People's Open team voyaged into the city for Science Hack Day SF 2017. The small group of six were mainly focused on a new project called disaster.radio, a mesh network device powered by solar energy.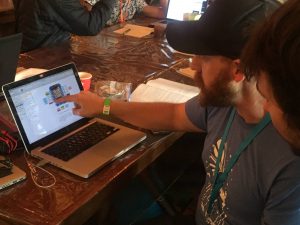 Marc pitched the idea to hackers at the event and talked with interested newcomers. Meanwhile, Scott and Nic, pictured on the right, focused on the hardware design and drone deployment system. Our electronics wizard, Leez attempted to sort out some power considerations and mingled with other groups for advice.
Even a newcomer, Eduardo, found a way to contribute by writing a Python script to simulate the meshing protocol needed for the disaster.radio network. Play around with the simulator here, https://jemucino.github.io/disaster-radio-netsim/
Finally, Daniel documented the event, taking the photos seen on this page, and even found time to make a teaser video for the project shown below.